Sulabh Movement in Mali. February 2, 2017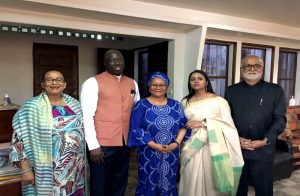 H.E. Mr. Niankoro Yeah Samake, Ambassador of Mali to India, accompanied by Ms. Hawa Deme, Founder of DEIYA Group to visit to Sulabh campus, they had planned long ago to meet Dr. Pathak. After their visit, Sulabh delegates visited Mali with the directions of Dr. Pathak. Mali is however, area wise 8th largest country in Africa but when Sulabh delegates looked with their eyes, they saw much heart wrenching tales here. People in this country are battling with poverty, unhygienic conditions and even struggling for their bread and butter even after many years of freedom from slavery. Most of the children are suffering from malnutrition, men and women are caught with epidemics, for which there are no cures, even in the developed nations. During the five days stay in Mali, the delegates found that the root cause of all misery was inadequate hygiene and sanitation. People are compelled to live with infectious diseases such as cholera, hepatitis, meningitis, polio, rabies, malaria and tuberculosis.
During the visit, they met the First Lady, Her Highness Ms. Keita Aminata Maiga. She warmly welcomed them and discussed many topics to generate sanitation and hygiene in Mali. After that, they got an opportunity to meet Hon'ble Mr. Manoj B Verma, Ambassador in charge of Embassy of India to Mali.
They also visited local schools – Bongarona Primary & Secondary School and N Timbu A&N. Timbu B secondary School. They briefly taught the children about daily hygienic practices and their benefits. Children were captivated by learning new things and looked delighted to follow hygienic regime. They also met with school principals and presented Sulabh literature to them. School principals accepted non availability of proper toilets and hygienic facilities in the schools.